"THE PROS IN BUNGY TRAMPOLINES"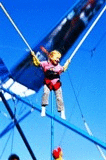 Our company started in the summer of 2002 and has grown through the years.  We are now involved in some of the best shows/festivals/events in the state of Colorado.  We have found our way into many newspapers and on television.  We believe we have developed some of the best techniques and skills to get the safest thrills from our staff and equipment.
Lots of random operators do not have the pride and knowledge we here at Eurobungy Colorado do!!  We want you to have the best experience possible.  This is why we do things a lot more efficient and listen to each person as each person has a different idea of how they want to get EXTREME!! So give us a try and experience the difference from the rest!
Some other useful things to know about us….
We do not use stakes and can set up anywhere; you will not be able to tell we were there.
The space required is 35'L- 35'W- 35' H/ That's right 35 feet high! (Imitators beware!)
We are fully insured and have a squeaky clean record, because we believe in safety first.
We are also affordable compared to others out there that are just in it for the money!  We really do take pride in what we do!!!!!!
We use power for our winches that are 220 volt because we have some distance to cover, vs. the little 110 volt tiny bungy trampolines that just don't give the thrills we do.
We are prepared to shed some light on you for night time thrills.  Others just can't compete!